HYTORC WASHER
---
The HYTORC Washer is the simplest upgrade for instant improvements in safety, speed and accuracy. This unique, patented system eliminates the need for reaction arms and other custom fixtures required to hold the tool in place. Additionally, the precision machined surface reduces variation in bolt load across the flange for improved accuracy and loosening prevention.
---
01. SAFETY
The HYTORC Washer eliminates the need for reaction arms, which are the most common cause of injury on bolting jobs. The unique design of the washer allows the double layered safety socket to react on the washer itself, while turning the nut.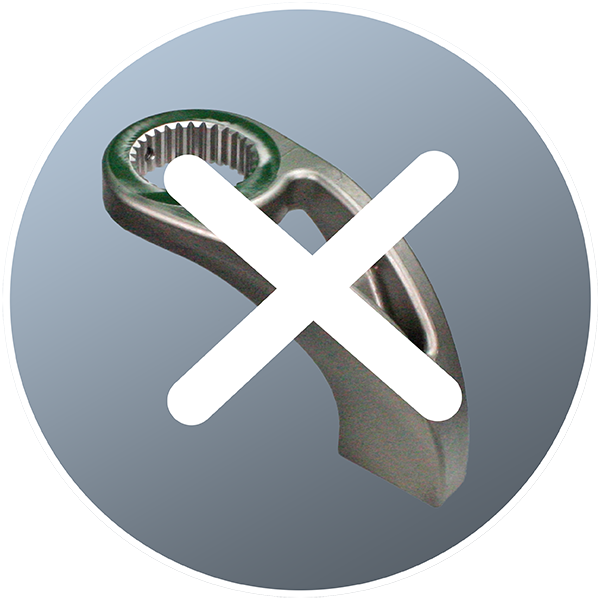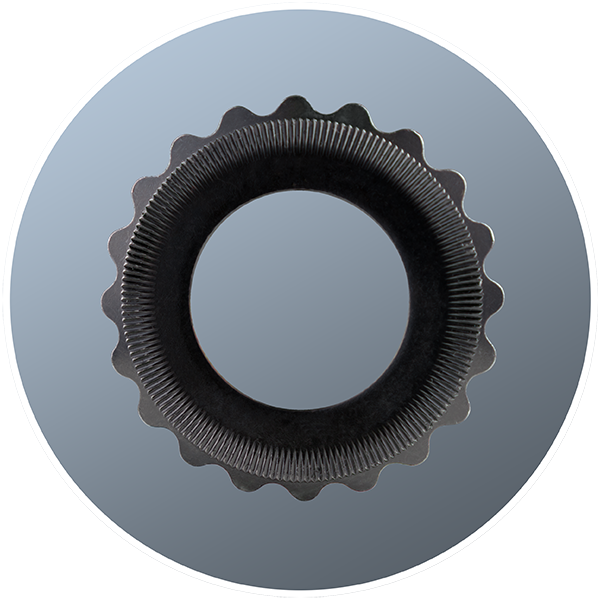 02. SPEED
The HYTORC Washer removes the complicated setup associated with other bolting systems and makes the bolting process more intuitive for improved job times
03. TOOL LONGEVITY
Other bolting systems put the reaction arm and square drive on opposite sides of the tool causing high stress in the body of the tool, which can lead to failure over time. The HYTORC Washer puts the action and reaction on the square drive axis to eliminate the majority of internal stress, and increase the lifetime of your tools.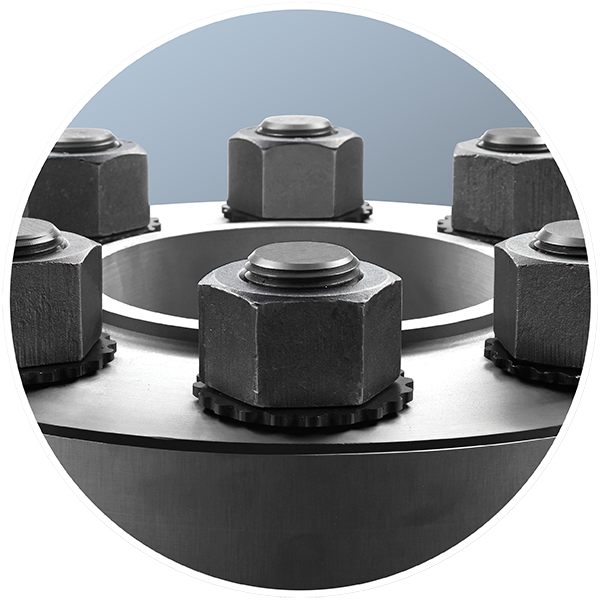 Technical Data

HYTORC Washer Dimensions – inch/mm
| | | | | | | |
| --- | --- | --- | --- | --- | --- | --- |
| Part No. | OD | ID | DB | DC | H | T |
| ZRW-008 | 1.118/28.40 | 0.531/13.49 | 0.98/24.89 | N/A | 0.025/0.64 | 0.12/3.0 |
| ZRW-009 | 1.219/30.96 | 0.594/15.09 | 1.06/26.92 | N/A | 0.029/0.74 | 0.12/3.0 |
| ZRW-010 | 1.432/36.37 | 0.656/16.66 | 1.15/29.21 | N/A | 0.057/1.45 | 0.13/3.3 |
| ZRW-012 | 1.600/40.64 | 0.813/20.65 | 1.42/36.07 | N/A | 0.033/0.84 | 0.15/3.9 |
| ZRW-014 | 1.865/47.37 | 0.938/23.83 | 1.62/41.15 | N/A | 0.045/1.14 | 0.15/3.9 |
| ZRW-100 | 2.057/52.25 | 1.062/26.97 | 1.80/45.72 | N/A | 0.047/1.19 | 0.16/4.1 |
| ZRW-102-M30 | 2.307/58.60 | 1.212/30.78 | 2.05/52.07 | 1.31/33.32 | 0.047/1.19 | 0.19/4.8 |
| ZRW-104-M33 | 2.492/63.30 | 1.330/33.78 | 2.19/55.63 | 1.43/36.32 | 0.055/1.40 | 0.19/4.8 |
| ZRW-106-M36 | 2.742/69.65 | 1.447/36.75 | 2.46/62.48 | 1.55/39.29 | 0.051/1.30 | 0.19/4.8 |
| ZRW-108-M39 | 2.928/74.37 | 1.566/39.78 | 2.54/64.52 | 1.67/42.32 | 0.071/1.80 | 0.19/4.8 |
| ZRW-110-M42 | 3.179/80.75 | 1.685/42.80 | 2.89/73.41 | 1.79/45.34 | 0.053/1.35 | 0.25/6.4 |
| ZRW-112-M45 | 3.355/85.22 | 1.802/45.77 | 3.09/78.49 | 1.90/48.31 | 0.048/1.22 | 0.25/6.4 |
| ZRW-114-M48 | 3.617/91.87 | 1.920/48.77 | 3.12/79.25 | 2.02/51.31 | 0.090/2.29 | 0.25/6.4 |
| ZRW-200-M52 | 3.787/96.19 | 2.077/52.76 | 3.48/88.39 | 2.18/55.30 | 0.056/1.42 | 0.25/6.4 |
| ZRW-M14 | 1.118/28.40 | 0.590/14.99 | 0.98/24.89 | N/A | 0.029/0.64 | 0.12/3.0 |
| ZRW-M16 | 1.219/30.96 | 0.669/16.99 | 1.06/26.92 | N/A | 0.057/0.74 | 0.12/3.0 |
| ZRW-M18 | 1.432/36.37 | 0.748/19.00 | 1.15/29.21 | N/A | 0.029/1.45 | 0.12/3.0 |
| ZRW-M20 | 1.457/37.01 | 0.827/21.01 | 1.30/33.02 | N/A | 0.033/0.74 | 0.13/3.3 |
| ZRW-M22 | 1.600/40.64 | 0.906/23.01 | 1.42/36.07 | N/A | 0.045/0.84 | 0.13/3.3 |
| ZRW-M24 | 1.856/47.37 | 0.985/25.02 | 1.62/41.15 | N/A | 0.045/1.14 | 0.16/4.1 |
| ZRW-M27 | 2.057/52.25 | 1.02/27.99 | 1.80/45.72 | N/A | 0.047/1.19 | 0.16/4.1 |