HYTORC Industrial Bolting Solutions
---
HYTORC SALES and SERVICE have proudly been serving western Canada for over 35 years.
---
About Us
HYTORC is a global company and we at HYTORC SALES & SERVICE have been the western Canadian representatives for over 35 years now. With that type of commitment into building an established service based company… it is safe to say that we are not going anywhere soon! Combined, our team has over 60 years of field experience working with customers in every major industry and on every type of industrial bolting application imaginable. It is this field experience that provides us with the foundation to listen to our customers bolting concerns… and then provide them with a true solution guaranteed to address their bolting requirements.
HYTORC  NOW  HAS ISO Certification
---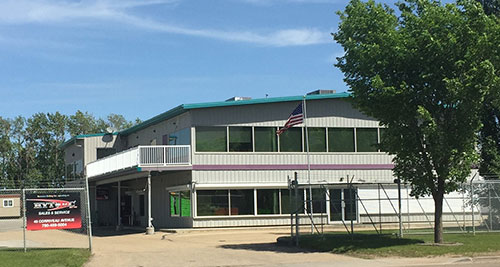 Western Canadian Head Office & Service Center Located in the Campbell Industrial Park in St. Albert, AB.
Hours of operation:
Monday – Friday 8 am – 4 pm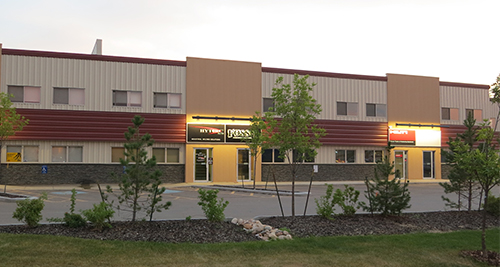 Oil Sands/Fort McMurray Operations & Service Center Located in Taiga Nova Eco-Industrial Park in Ft. McMurray, AB.
Hours of operation:
Monday – Friday 8 am – 5 pm
These prime locations in the heart of the energy CAPITAL of Canada ensure fast, courteous and professional service to the massive oil sands projects in northern Alberta and their related refinery/up grader operations in the greater Edmonton area.
Additional Sales Office: We operate a sales office in Calgary, Alberta.
New Equipment Sales
New HYTORC equipment is in stock and available at our St. Albert and Fort McMurray locations.
Service
Our St. Albert and Fort McMurray locations are the only factory authorized service centers for HYTORC equipment in western Canada. Our service technicians and office staff ensure quick, professional turnaround on any service or warranty related repairs your system may require.
Calibration: Full calibration services are available at both locations.
Rentals
If you should require additional HYTORC equipment for a large shutdown or only require a system occasionally… we have rental equipment available capable of up to 46,000 ft. lbs.  Contact our head office for more information and details.
HYTORC equipment rentals are available through our St. Albert and Fort McMurray locations.
Consultation
Our bolting professionals are available to come on site and provide a free "bolting survey" of any application. We can then consult with your group and provide our recommendations and a proposal for the most effective HYTORC system to handle the situation.
We have an excellent working relationship and direct communication with HYTORC engineers to consult on complex or special applications.
Training
After sales training is provided free of charge with the purchase of every HYTORC system. Should additional training be required at a later date… we will work with your maintenance and mechanical teams to coordinate a free safety/operation seminar at your request.
Additional training and continuing support is always provided free of charge throughout western Canada.
Trade Shows
Make room in your schedule to come see the most advanced hydraulic bolting systems available today.
View our latest products, see a demonstration, grab a brochure or talk with our bolting  professionals.
Don't miss this opportunity to visit the HYTORC booth at the following shows.
Global Petroleum Show
June 13-15, 2023- Booth 1933
Stampede Park-1410 Olympic Way SE, Calgary, Alberta T2G 2W1
This extensive showcase of technology driving the industry will feature rigs, drives, casings, muds, fracturing and perforating, downhole, measurements and more. Come discover, explore and network.
Show Hours:
| | |
| --- | --- |
| Tuesday, June 13, 2023 | 10:00 am – 6:00 pm |
| Wednesday, June 14, 2023 | 10:00 am – 6:00 pm |
| Thursday, June 15, 2023 | 10:00 am – 5:00 pm |
Oil Sands Trade Show & Conference
September 13-14, 2023 Booth 1309
Suncor Community Leisure Centre- MacDonald Island Park 1 C.A. Knight Way Fort McMurray, AB T9H 5C5
Since 1985, Oil Sands Trade Show & Conference has been the entry point for producers and operators to get to know the technology, services and products available in the marketplace for the oil sands industry. The show, conference and special events focus on networking, collaboration, education and deal making.
Show Hours:
| | |
| --- | --- |
| Wednesday, September  13,  2023 | 11:00 am – 7:00 pm |
| Thursday, September  14,  2023 | 10:00 am – 7:00 pm |
| | |
Petroleum Show 2021 .
May 19 and 20, 2021
Evergreen Park, Grande Prairie
Booth 2006 & 2008
Link: www.prpshow.com
Show Hours:
| | |
| --- | --- |
| Wednesday, May 19, 2021 | 9:00 am – 5:00 pm |
| Thursday, May 20, 2021 | 10:00 am – 4:00 pm |
APPLICATION MEDIA GALLERY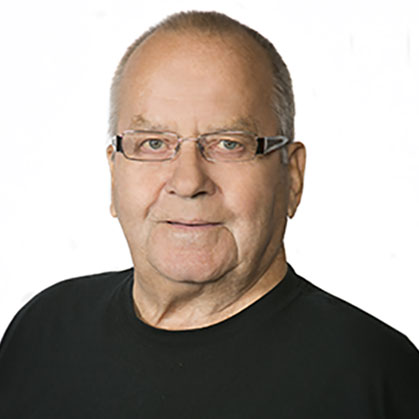 Ron Berge
Ron Berge is the President and owner of HYTORC Sales & Service, which is a family operated business.  Ron was born in Saskatchewan and grew up on the family farm.  This is where he developed a love for mechanics and he went on to get his journeyman automotive certification. Ron's early career started in the oil and gas industry working as a mechanic.  He moved on to own and operate Amtorc out of his garage in Calgary, Alberta and later started with HYTORC Unex Corporation for the Western Canadian Division. This was when he put together his love for mechanics and his desire to help people solve their day to day mechanical problems.  HYTORC tools enabled Ron to consult with his clients, troubleshoot and determine their needs, and offer a bolting solution.  If there wasn't something already available he worked with the engineering department to determine what would. Ron is married to the love of his life, Sharon.  They have two sons; Tracy and Kelly.  Since 1983, the Berge family are proud and dedicated to being a fundamental part of HYTORC.  As one of the oldest and most respected names in the industry, HYTORC has a long-standing tradition of credibility and dependability. We have the proven ability to meet your delivery requirements no matter what they are.
Sr. Industrial Bolting Specialist
Tracy Berge is the senior Industrial Bolting Specialist at HYTORC Sales & Service. He has been with HYTORC for over 25 years working throughout western Canada. His field experience along with the knowledge and expertise gained during this time has proven to be invaluable to our company.
A skilled communicator, Tracy interacts seamlessly with every level of personnel within a company. This ranges from the end user groups up to and including engineering and senior management. Tracy thrives on working with customers to provide safe and reliable bolting solutions for their most difficult and complex bolting applications.
His enthusiasm and commitment to implementing our innovative bolting solutions has recently resulted in major breakthroughs and success stories in the heavy mining operations in the Oil Sands of northern Alberta. While his dedication to the business and industry takes most of his time, he does enjoy muscle cars, hot rods and the occasional round of golf when time allows.
Email: tracy@hytorcwest.ca
Service Manager
Kelly Berge is the Service Manager at HYTORC Sales & Service. He is responsible for maximizing the efficiency and productivity of the St Albert and Fort McMurray shops. He has worked at various careers in the Oil & Gas industry his entire life and he has been with HYTORC full time for the last 25 plus years.
His field experience along with the extensive practical experience in servicing and repairing HYTORC tools gives him the ability to trouble shoot most issues over the phone. Kelly interacts daily with several customers and can interpret the customers' descriptions to determine and provide the proper tool for their project, whether big or small.
Kelly understands the importance of turnaround times and he makes it his number one priority to get the customers' tools back quickly. While Kelly is dedicated to the business, he does enjoy spending as much time with his wife and two daughters whenever possible.
Email: Kelly@hytorcwest.ca
Industrial Field Representative
Derek is the Industrial Field Representative at HYTORC Sales & Service and is responsible for the sales, field support and training in British Columbia. Derek joined the HYTORC team in April of 2019.
Prior to joining HYTORC Derek spent most of his career selling industrial / mobile hydraulics and pneumatics in the oil, gas and timber Industries. Derek prides himself in complete customer satisfaction, with prompt and responsive service. He enjoys assisting customers to find a solution for their bolting needs and selecting the right tools for their applications.
He has a Sales Management Certificate from the University of Alberta and holds a Certified Sales Professionals (CSP) designation from the Canadian Professional Sales Association (CPSA). Derek enjoys spending time with his wife and children, he loves to camp and enjoys riding his Motorcycle.
Email: derek@hytorcwest.ca
Industrial Field Representative
Paul is the Industrial Field Representative at HYTORC Sales & Service and is responsible for the sales, field support and training in Saskatchewan and Manitoba. Paul joined the HYTORC team in December of 2018.
Prior to joining HYTORC, Paul spent 14 years as a journeyman pipefitter working in the oil, gas and mining industries Paul provides product presentations and works with customers to provide solutions for their most difficult bolting applications. He strives to ensure customer satisfaction and never leaves a question unanswered. His time as a journeyman pipefitter provided Paul with excellent hands on knowledge and experience with bolting systems prior to joining the HYTORC team.
Paul promotes a high standard and quality of work, safe work practises and the importance of meeting project timelines. Paul is dedicated to working with customers and providing them with the equipment package and / or bolting solution that addresses every one of their concerns.
Paul is newly married and when possible, he likes to travel with his wife. Paul enjoys the outdoors so when he can he tries to find spare time on the weekend to hunt or play golf.
Email: paul@hytorcwest.ca
Industrial Field Representative
Brent Todd is the Industrial Field Representative at HYTORC Sales & Service, with responsibility of the sales and marketing programs for the Central Alberta area. Brent joined the HYTORC team in July of 2015.
Prior to joining HYTORC, he worked in the Oil and Gas industry selling down hole tools and drill pipe. Brent's greatest strengths are his drive and customer service. He thrives on challenges, and the satisfaction of making his customers processes better. His most recent project assisted a drilling contractor in changing out their liners saving them countless man hours.
Brent continually strives to visit customer locations to see their processes in action and determine if any of our tools would be beneficial; if so he enjoys demonstrating it personally. Brent holds a Marketing Certificate from Athabasca University. He enjoys spending as much time with his girlfriend and their two dogs whenever possible.
In his free time, Brent enjoys playing hockey and snowboarding in the winter, while in the summer, you will find him on the golf course when time permits.
Email: Brent@hytorcwest.ca